Welcome to our Quick Online Manual
Getting started with your pain free life is now quick and easy!
See below for detailed instructions on using your new Magic Massage Device and add-on products now!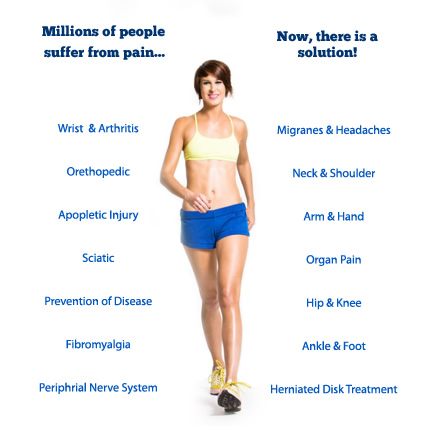 INTRODUCTION
Thank you for Purchasing Magic Massage XP Hands-free Massager.
Revolutionary, patented 21st century technology has allowed the Magic Massage XP the ability to re-create the feeling of an actual massage. With an unprecedented sixteen modes, our latest state of the art, dual channel unit has a function to bring relief from a host of ailments. The XP with its two output ports allows up to four pads on the body at once, for extra relief.
Similar technology has been used by physicians, Chiropractors, physical therapists and sports trainers for decades, for various needs. Now you can experience the copyright protected, ultra smooth, deep tissue massage sensations of your own lightweight, portable and durable Magic Massage XP unit.
OPERATING INSTRUCTIONS
1. Start by attaching the pads to the lead ends of the out put cord.
2. Remove the protective film from the pads. When storing make sure to cover pads with protective film, or store them on the pad holder provided.
Adding a few drops of water on the pads will increase their longevity.
3. Place pads where the massage sensations are desired. And plug into one of the ports on the device. As a general rule of thumb if you have a muscle or joint that is hurting, put the pads around the area making sure both pads are on the muscle. For additional relief use the second port and repeat procedure to put on another two pads.
4. Turn the device on by sliding the switch at the top of the device to the on position. The unit will be now activated. Increase the intensity to feel the sensations as desired. Press the mode button to try different sensations. Remember the power goes down to level 1 one every time you switch modes.
Within each mode there are between 2-4 different sensations. Change the sensations by pressing the center button.
MODES
There are sixteen modes to choose from, they are:
| 1. Knead | 10. Sports Mode |
| --- | --- |
| 2. Cupping | 11. Thai |
| 3. Parego | 12. Swedish |
| 4. Massage | 13. Deep Tissue |
| 5. Cupping-intermittant | 14. Trigger Point |
| 7. Acupunture | 15.Reflexology |
| 8. Butterfly | 16. Auto |
| 9. Shiatsu-Deep | |
| | | |
| --- | --- | --- |
| SYMPTOMS | POINTS | TIME |
| High Blood Tension | 12, 25, 30, 13, 27, 39 | 30 mins |
| Lower Back Pain | 47, 48, 49 | 30 mins |
| Stomach Ache | 13, 27, 3, 8, 24 | 30 mins |
| Grastroptosis | 18, 21, 27, 3, 8 | 30 mins |
| Impotense | 18, 19, 47 | 30 mins |
| Diabetes | 46, 27, 47, 33 | 30 mins |
| Menoxenis | 32, 18, 19 | 30 mins |
| Anemia | 31, 31, 55, 65 | 30 mins |
You may increase or decrease the intensity as you wish.
6. Recommended application is 10-60 minutes. You can set the time in 10 minute increments. The time remaining is automatically counted down.

MASSAGE MODES
Massage Hands Modes
1 - Knead
slow gradual increase, grabbing muscles on a 5 count then release, SHOULDERS
2 - Cupping
20 strong pulses on a 6 count, then release
3 - Parego
strong continuous pulses
4 - Massage
continuous grab and release on a 2 count
Hand Needle / Accu Puncture Modes
1 - Cupping - Intermittent
slow pulse increasingly faster then stop
2 - Acupuncture
12 pulses and 12 chops
3 - Butterfly
instant strong grab on a 5 count then stop
Hot Oil or Stomach Modes
1 - Shiatsu-Deep
slow increase 5 count, hold for 3, slow decrease, 5 count
2 - Sports
faster increase 4 count, hold for 3, then slowly stop
3 - Thai
slow increase 4 count, hold 4 count then slowly stop
Head Icon Modes
1 - Swedish
gentle continuous light tingle
2 - Deep Tissue
continuous gentle on-off pulsing
Feet Icon Modes
1 - Deep Tissue
slow increase, hold, slow release, 10 count SHOULDERS
2 - Auto-Combination
changing variety of pulses
Ear Icon Modes
1 - Reflexology
10 second gentle pulse then stop
2 - Trigger Point
gentle continuous pulses
MAINTENANCE AND CARE
. Applying a few drops of water before and after a session will increase the longevity of the pads, maintain optimal performance and cleanliness. Make sure you, replace plastic film or store the pads on the pad holder after use.
If a noticeable change in sensation is felt over time, it is recommended to change pads.
.If you take care of Pads they can last up to a year depending on use.
.When pads have completely lost adhesiveness extra pads can be ordered online.
PRECAUTIONS
. Do not apply the massage pads near the heart, on the head, above the neck, in the pubic region, over scarred areas, on the throat or over the mouth.
. Avoid touching the pads when the unit is on.
. Pregnant women must avoid using this massager.
. Do not use this massager if you a Pacemaker or other life support equipment such as an artificial lung or respirator.
. Keep out of the reach of children.
FREQUENTLY ASKED QUESTIONS

How does Magic Massage XP work?
Magic Massage XP uses bio-electric stimulus to massage your muscles. Your muscles respond to the impulses by contracting and relaxing rhythmically. This can really help to reduce tension and knots. It can also reduce inflammation.

Consequently, Magic Massage XP can help your muscles and joints feel better. The soothing sensations are similar to that given by a massage specialist.
Where can I use the Magic Massage XP pads?

You can use the Magic Massage XP on almost every muscle and joint area on your body. Do not apply the massage pads near the heart, on the head, above the neck, in the pubic region, over scarred areas, on the throat or in the mouth. As a general rule of thumb if you have a muscle or joint that is hurting, put the pads on or around the area always making sure both pads are on muscles.
The best way to relieve your pain is to find the pain points and apply the pads there.

Magic Massage XP provides passive exercise to cellulite areas and helps to shape your body. This is ideal for women to use on their abdominal muscles after giving birth, and for anyone who lives a sedentary life style.

Elderly and people who are forced to sit for prolonged periods of time can use Magic Massage XP on all different muscle groups to maintain muscle tone and prevent stiffness. Magic Massage XP is also used to help relieve tired, achy, strained muscles and to give you relaxation and a deep soothing massage.
How far up on the back of my neck can I put the massage pads?

About half-way up the neck. If you have tension at the base of your head, placing the pads halfway up should help that area. This also helps with headaches.
I put the massage pads on my shoulders, but the massage sensation feels uncomfortable. What should I do?

You probably have a lot of tension in that area. Often people don't realize that they have tension until they get a massage. If the uncomfortable feeling persists for more than a minute or two, move the massage pads over or down a little. Sometimes, an indirect massage is necessary for your really sensitive areas.

Is Magic Massage XP safe to use?
Bio-electric stimulus is perfectly safe to use and is therapeutic for most people. However, people with certain health conditions cannot use this massager. Pregnant women must avoid using this massager. Patients who use a pacemaker or life support equipment, such as an artificial heart-lung device(s) and/or respirator type medical devices must avoid using this massager.

Consult with your doctor before using Magic Massage XP if you have or think you have:

Acute disease
Cardiac dysfunction
Epilepsy
High blood pressure
High fever
Infectious disease
Malignant tumors
Recent surgery
Skin problems

Do not open the chassis/body control shell for any reason. Also make sure to keep Magic Massage XP and the massage pads out of reach of children.

How long do the massage pads last?

With frequent usage, the two pair of pads included in the massager package should last about 4-6 months. Always make sure to apply a few drops of water on the pads before and after usage. Cover the pads with their protective films after usage and put them back in their zip lock bags so they don't dry out.

No matter where I put the massage pads I feel an uncomfortable stinging sensation. What should I do?

The massage pads may be worn out and need replacement. If they look good and have good adhesiveness, your battery may be getting low. More massage pads can be ordered.

How long will the batteries last in the massager?

Generally about 20 hours of runtime or more. This kind of technology is not hard on batteries. You can also use the unit with the wall charger or directly from your compute using the USB cable.
Does Magic Massage XP have a warranty?
Yes, Magic Massage XP has a two year warranty. Check our warranty page for further details.
What is MagicMassageXP.com's return policy?
MagicMasseuse.com offers a two year exchange policy on defective merchandise. If for any reason your unit malfunctions within two years of purchase you may return it to us for examination as per our warranty program. Magic Massagexp.com does not offer refunds on purchased merchandise.
WARRANTY
Magic Massage XP has a two year limited warrant (valid in the USA and Canada only).
Magic Massage XP is guaranteed free from defect in material and workmanship for a period of two years from date of purchase, except as noted below.
The warranty does not cover damage caused by misuse, abuse or accident; the attachment of any unauthorized accessory, alteration to the product; This warranty is only effective if unit is purchased in the USA or Canada.
Under this warranty
Magic Massage XP shall not be responsible for any type of incidental, consequential, or special damages. All implied warranties, including but not limited to those implied warranties of fitness and merchantability, are limited in the total duration of 2 years from original purchase date.
To obtain warranty service on Magic Massage XP, please send us the complete unit with leads and wires, your return address, your dated sales receipt. Along with a check or money order in amount of US$6.00 payable to Combined Innovations to cover handling. Please mail to
Magic Massage
9748 Stephen Decatur Hwy
Ocean City MD
21842
Magic Massage Pro
Magic Massage Ultra
Replacement Pads

The Magic Massage Pro is a very sleek, very small unit, but still packs a lot of power.
- 6 modes
10 levels of intesity
- Comes with a hand belt clip so you can use it anywhere!

The Magic Massage Ultra is the strongest, most multi-purpose TENs device available.
- 16 modes, and dual channels
- 10 levels of intesity
- Beautiful blue backlight feature so screen is easy to see!

Check out our other products including replacement pads, an extended warranty, foot massage and dual adaptar.